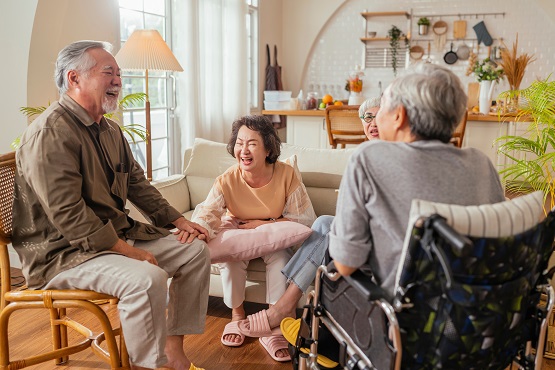 Are you seeking strategies to boost your elderly loved one's well-being? One of the simplest and most effective methods to do so is to increase their socialization. If you're curious about this, let us at Just Wright Home Care Agency LLC, a leading provider of non-medical home care in Missouri, give you a run-down!
Studies say that social support can have a significant impact on overall health as individuals age. Time spent with friends and family members may also enhance seniors' quality of life, as well as their physical and mental health.
Experts also believe that certain types of social interactions can benefit cognitive function. One study showed that cognitive capacities diminished 70% slower in people who had regular social contacts compared to those who had little.
As in home care specialists, we recommend the following strategies to help seniors increase their socialization:
Build and maintain positive relationships with grandchildren.
Take advantage of community resources such as senior centers and religious organizations.
Organize social activities on your own and include seniors who might be experiencing isolation or loneliness.
Help maintain a sense of purpose by caring for a pet, church attendance, or pursuing hobbies and interests.
For seniors who would much rather stay at home, seeking home care services—particularly companion care—can also go a long way toward achieving desired levels of engagement and interaction.
Should you have questions, feel free to contact our home care agency in Kansas City, Missouri, anytime!
You may also take advantage of our homemaking services in Missouri! Let's get in touch!