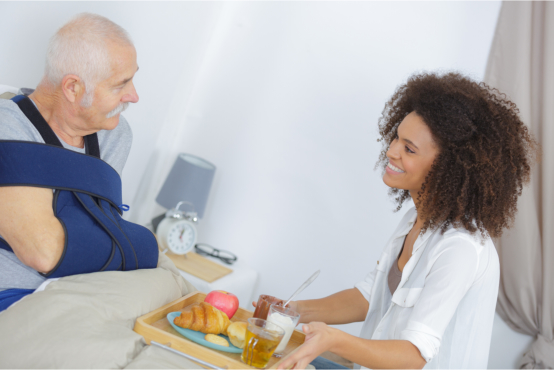 Home health care services are very versatile and can cater to the many different needs and requirements of people. Most people have heard about companionship care, personal care, and nursing care, these are blanket terms that cover a range of many different care services. For example, you may find that many of our private pay services are incorporated in companionship care and personal care. The important thing to remember is that care services like our Non-Medical Home Care in Missouri all aim to promote the lives of people.
Here are a few home care services you may not have known about that from us here at Just Wright Home Care Agency LLC:
Meal Preparation
Diet and nutrition are given very careful consideration in home health care because a proper diet is important in order to promote optimal health and wellbeing. This is why care providers assist with meal preparation, which includes planning of daily meals, cooking meals, and cleaning up after cooking. Caregivers are trained to ensure that the meals they provide are healthy and nutritious. Meal preparation services is also a great way to ensure that food is monitored properly to avoid ingestion of expired food.
Laundry
Doing the laundry is part of home care services, like our Homemaking Services in Missouri. With this service, you can expect the washing of clothes and linens, folding, and ironing, as provided by the caregiver or homemaker.
Correspondence
Socialization is important in order to promote mental health as well as overall health and wellbeing. Studies show that spending time or connecting with friends and family can help reduce stress, anxiety, and depression. Through correspondence services offered by home health care providers, caregivers will assist their patients with the planning of social activities and contacting friends and family.
Those mentioned above are just three of the many different services you can expect from home health care. If you need assistance with the activities above, we are a Home Care Agency in Kansas City, Missouri that can help you with such activities and many more.