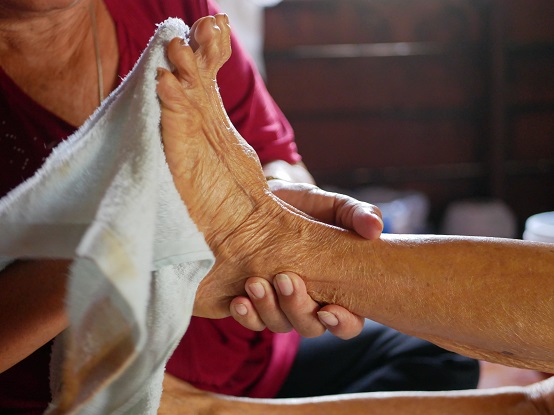 Living with diabetes is hard- from maintenance medication management to the restrictions on what to eat and what not to eat. Complications may arise if the patient is not well-taken care of. A diabetic foot is one to look out for since diabetes can damage the feet. That is why it is essential for seniors who are diabetic patients to have private duty care.
Aside from the daily inspection of their feet for signs of diabetic foot, we also wash their feet with lukewarm water. It is relevant to gently bathe their feet and carefully cut their nails to avoid wounds, scratches, and cuts. In addition we:
Moisturize their feet, but it is necessary not to include between the toes.
Never treat corns and calluses on our own. We let the professionals work on them.
Never let them walk barefoot
As a provider of non-medical home care in Missouri, we aim to provide excellent care services to the elderly and people with disabilities. Under our agency, we divide our services into types- the Medicaid services and the private pay services.
For either of the two services, we make sure to include the medical visits for the nail care of our patients with diabetes. As a home care agency in Kansas City, Missouri, we guarantee taking care of their overall well-being. Although we are non-medical home care, we can make sure that our clients receive the personal care they deserve.
Just Wright Home Care Agency LLC can be the solution you are looking for today. Our homemaking services in Missouri can help you and your loved ones.
Check out the services we offer and how we can help here on our website. If you have questions and other concerns, call us today.