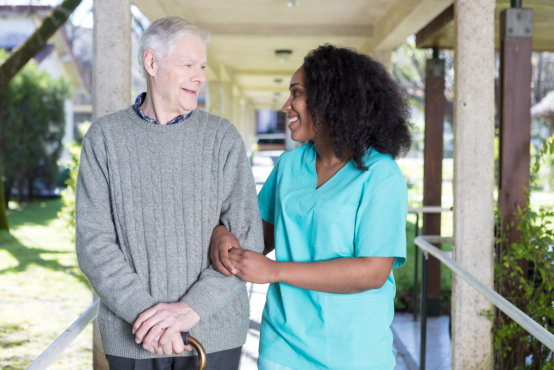 According to an article in the National Center for Biotechnologies website, Mobility is a common issue that seniors have to deal with daily. This causes them to live a more sedentary lifestyle which increases the risk of conditions like hypertension. Here are some things seniors can do to avoid being sedentary at home:
Walk for five or more minutes every few hours
The best way to combat a sedentary life is by walking more often. You do not have to constantly be on your feet, but try to walk around as much as possible. Walking will stretch your muscles and promote better circulation. Our home health aides can provide mobility assistance while you go on your regular walk. We also provide other services like our Homemaking Services in Missouri.
Perform up to 10 reps of wall pushups
Bodyweight exercises are great for strengthening your muscles and joints. Wall pushups are a great bodyweight exercise that requires a bit of movement. The home health aides from our Home Care Agency in Kansas City, Missouri can assist with this exercise. Just remember to always consult your doctor first before performing any type of exercise.
Try to stand up when on the phone with someone
Since the birth of the telephone, communicating with friends and family every day is becoming a part of life. Consider standing while you are on the phone with someone. This is a great way to get yourself standing and moving around. Also, you will hardly even notice the need to sit while you are enjoying a casual conversation with someone on the phone.
These are just a few things senior citizens can do to get moving and standing. Just Wright Home Care Agency LLC provides a variety of care services like our Non-Medical Home Care in Missouri. These services are very beneficial for the elderly.