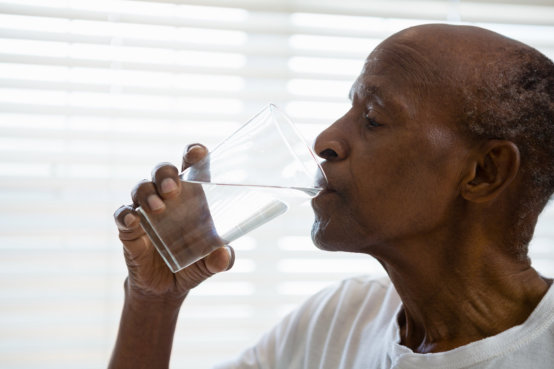 Seniors need to be more careful about overheating and/or experiencing heatstroke because their bodies can't adjust to high temperatures as well and as quickly as younger bodies can.
Their bodies are unable to adjust to sudden changes in temperature, and sometimes, they are diagnosed with chronic medical conditions that can change their body responses to heat.
To keep seniors safe and comfortable, our home care agency in Kansas City, Missouri rounded up a few practical, senior-friendly ways to help them stay cool indoors.
Lastly, wear layers of lightweight clothing in light-colored cotton, so it's easy to adjust to the temperature throughout the day by removing or adding layers.
Have them drink plenty of cool water throughout the day. Don't wait until they feel thirsty, and avoid alcohol and caffeine.
Let them eat cooling snacks, like homemade popsicles (use a cupcake liner to catch drips), frozen peas, or slightly frozen grapes.
Prepare them light, cold meals, like chicken or pasta salad instead of heavy, hot dishes like pot roast.
Place a cool washcloth on the back of their neck and a pan of cool water close by to periodically re-cool the towel.
Sit with feet in a pan of cool (but not too cold) water.
Quality non-medical home care in Missouri is difficult to come by. Make sure that your loved ones are properly taken care of, especially during the summer season, by doing a thorough background check of the providers you are considering.
Just Wright Home Care Agency LLC provides patients exactly what they need with the help of our professionals after conducting an overall assessment of their condition.
For more information about home care and homemaking services in Missouri, you can contact us and set an appointment with our staff.