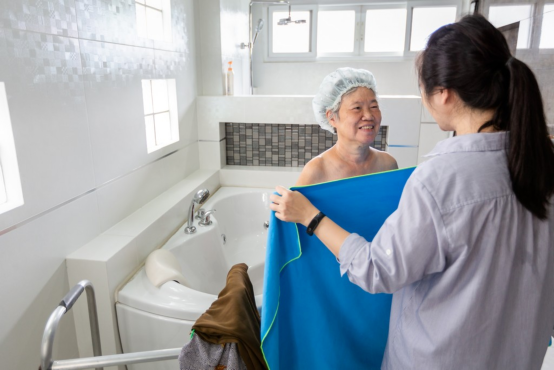 Are you someone who showers or bathes every day? Don't worry — you're not alone. Almost two-thirds of Americans and an estimated 80% of Australians shower daily. And when asked why they choose to do it, the answer is almost unanimous: "because it's healthier than showering less often."
China has one of the highest life expectancy ratings in the entire world, even exceeding that of America and Australia. And surprisingly enough, half of China's total population reports bathing only twice a week.
So, is bathing every day necessary to stay healthy and clean?
It's not at all clear that showering daily increases health. Experts suggest that showering several times per week is plenty enough for most people to wash off the dirt, grime, and sweat that build upon the skin over time.
How Home Care Can Help
For seniors, showering daily can pose a great risk to their safety, as they are more susceptible to slips and falls in the bathroom than in any other room in the house. Increase your loved one's safety and health by hiring Non-Medical Home Care in Missouri to assist them with daily living activities such as bathing, cleaning, and cooking.
At our Home Care Agency in Kansas City, Missouri, we give our clients the flexibility to choose programs and payment options, such as private pay, that will fit their personal plans and preferences.
Contact us at Just Wright Home Care Agency LLC today to learn more about our Homemaking Services in Missouri.