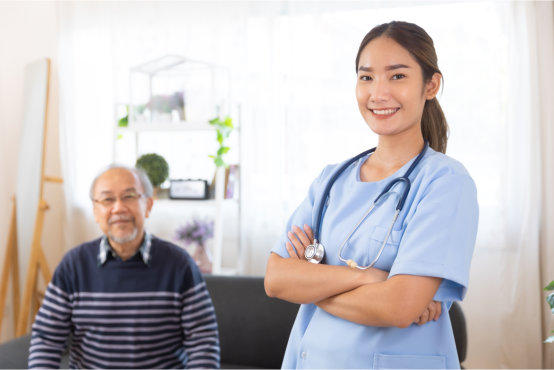 Looking for a Caregiver should be done with your loved one in mind especially when it comes to home care. Some seniors have certain medical conditions and disabilities that prevent them from being able to complete their daily tasks.
For seniors living at home, it's difficult to maintain the house, do daily chores, and take care of themselves at the same time. That's why we offer a wide range of non-medical home care in Missouri.
Make sure your loved ones are properly taken care of. The safety and comfort of the senior should always be your number one priority. Here are a few things that should be non-negotiables when looking for private pay caregivers or nurses:
Patient

Seniors might spend more time doing daily tasks, completing activities, or even answering common questions. Getting into a little conflict wouldn't be something new in this line of work so a little extra patience is always needed when dealing with the elderly, and professionals from a home care agency in Kansas City, Missouri possess this very trait.
Meticulous and Thorough

For seniors with chronic diseases and disabilities, nurses and caregivers may be required to do certain tasks for their medication or maintenance. It is important to have someone meticulous and thorough, especially when dealing with certain medical procedures.
Caring and Compassionate

Seniors in need of a caregiver who genuinely cares for their well-being. We want people who take into consideration how their patients feel and adjust accordingly. They should feel that they are cared for and important.
It's difficult to find high-quality homemaking services in Missouri. So, make sure to check out all your boxes when you choose and do thorough research on the providers you are considering.
Just Wright Home Care Agency LLC can surely provide you with all you need, and more with the help of our professional assessment. We make sure the service we provide is tailor-fit for all our clients.
For more information, please contact us or set an appointment with our staff.